This chicken pasta recipe has lots of fresh ingredients: garlic, tomatoes, and spinach. This easy and quick dinner will become a family favorite!
CourseMain Course
CuisineItalian, Mediterranean
Keywordtomato chicken pasta, tomato spinach chicken pasta, tomato spinach pasta
Prep Time10minutes minutes
Cook Time20minutes minutes
Total Time30minutes minutes
Servings4 servings
Calories532kcal
AuthorJulia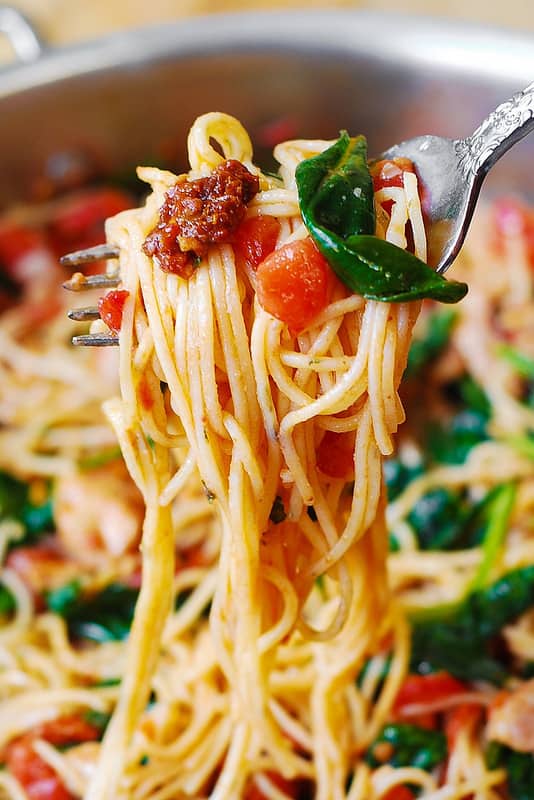 Ingredients
1/4 cup sun-dried tomatoes chopped, drained of oil
2 tablespoons olive oil drained from sun-dried tomatoes
1/2 lb chicken boneless and skinless (preferably, boneless skinless thighs), chopped
1/4 teaspoon salt
1/4 teaspoon red pepper flakes
4 roma tomatoes chopped
1/4 cup fresh basil leaves chopped
8 oz spinach fresh
3 garlic cloves chopped
8 oz spaghetti pasta
3 tablespoons olive oil (use high quality olive oil or oil from the sun-dried tomatoes jar)
Instructions
Add chopped sun-dried tomatoes and 2 tablespoons of olive oil, drained from sun-dried tomatoes, to a large skillet, on medium-low heat.
Add chopped chicken. I used boneless skinless chicken thighs and prefer to use them, but you can use chopped chicken breast, as well.
Add red pepper flakes, and salt over all of the ingredients in the skillet.
Cook on medium heat until the chicken is cooked through and no longer pink, about 5 minutes.
Add chopped tomatoes, chopped fresh basil leaves, fresh spinach, and chopped garlic to the skillet with chicken. Cook on medium heat for about 3- 5 minutes until spinach wilts just a little, and tomatoes release some of their juices. Remove from heat.
Taste, and add more salt to taste, if needed. Cover with lid and keep off heat.
Cook pasta according to package instructions, until al dente.
Drain. Add cooked and drained pasta to the skillet with the chicken and vegetables.
Reheat on low heat, mix everything well, add more seasonings (salt and pepper), if desired. Remove from heat.
At this point, when the pasta and vegetables are off heat, you can add more high-quality olive oil. It's optional but really tasty! Or you can add more olive oil from the jar from the sun-dried tomatoes.
Nutrition
Calories: 532kcal | Carbohydrates: 51g | Protein: 21g | Fat: 27g | Saturated Fat: 5g | Cholesterol: 42mg | Sodium: 401mg | Potassium: 941mg | Fiber: 4g | Sugar: 6g | Vitamin A: 6090IU | Vitamin C: 29mg | Calcium: 95mg | Iron: 3.7mg