This Chocolate Dipped Coconut Chocolate Chip Macaroon Recipe makes the most sweet and chewy dessert with only 4 ingredients
Prep Time10minutes mins
Cook Time20minutes mins
Total Time30minutes mins
Course: Dessert
Cuisine: American
Keyword: easy dessert, Passover
Servings: 24
Calories: 151kcal
Ingredients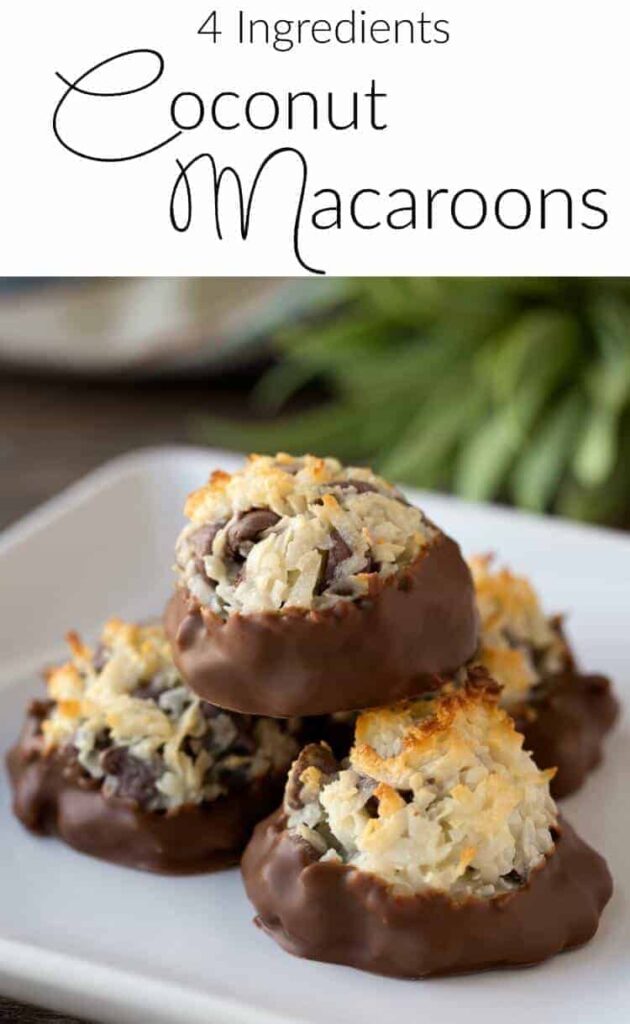 1 14 oz. bag sweetened coconut
2 tsp vanilla
1 14 oz. can condensed sweetened milk
1-2 cups chocolate chips
melting chocolate (optional)
Instructions
Preheat oven to 350 degrees and line cookie sheet or baking sheet with a silicon baking mat or non-stick foil or parchment paper
Mix coconut, vanilla, condensed milk together in large mixing bowl. Add in the chocolate chips.
Take a tablespoon size of the mixture (a cookie scooper works great for this) and roll it in a ball with your hands (see tips above recipe!) You want the balls really tight, so squeeze the mixture in your hands!
Place each on the cookie sheet spaced apart (they will spread a bit)
Bake about 15-20 minutes until golden brown (the baking time really depends on your oven, you don't want them to burn, so watch them carefully)
Cool on a wire rack
When totally cool – melt candy chocolate in a double boiler (follow your chocolates instructions) and dip the bottom and roll the bottom sides in the chocolate. Let cool for about 15 minutes in the refrigerator
Serve and enjoy!!
Notes
SEE TIPS ABOVE RECIPE!!
Find more great recipes at https://princesspinkygirl.com
Nutrition
Calories: 151kcal | Carbohydrates: 18g | Protein: 1g | Fat: 8g | Saturated Fat: 6g | Cholesterol: 2mg | Sodium: 57mg | Potassium: 59mg | Fiber: 2g | Sugar: 15g | Vitamin A: 35IU | Vitamin C: 0.1mg | Calcium: 19mg | Iron: 0.4mg