Pecan Pie Brownies are fudgy chocolate brownies topped with a pecan pie filling for an irresistible dessert.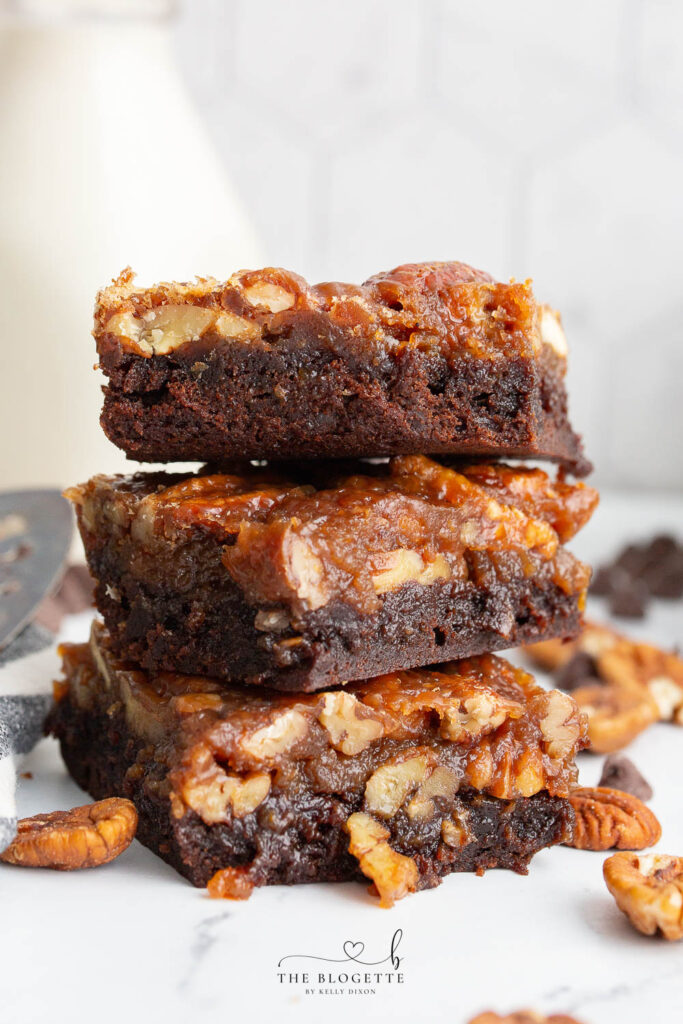 Servings: 15 brownies
5 from 1 vote
PREP TIME 10minutes mins
COOK TIME 1hour hr
CHILL TIME 1hour hr
TOTAL TIME 2hours hrs 10minutes mins
EQUIPMENT
Non-stick cooking spray
9×13 pan
sauce pot
Whisk
Large mixing bowl
INGREDIENTS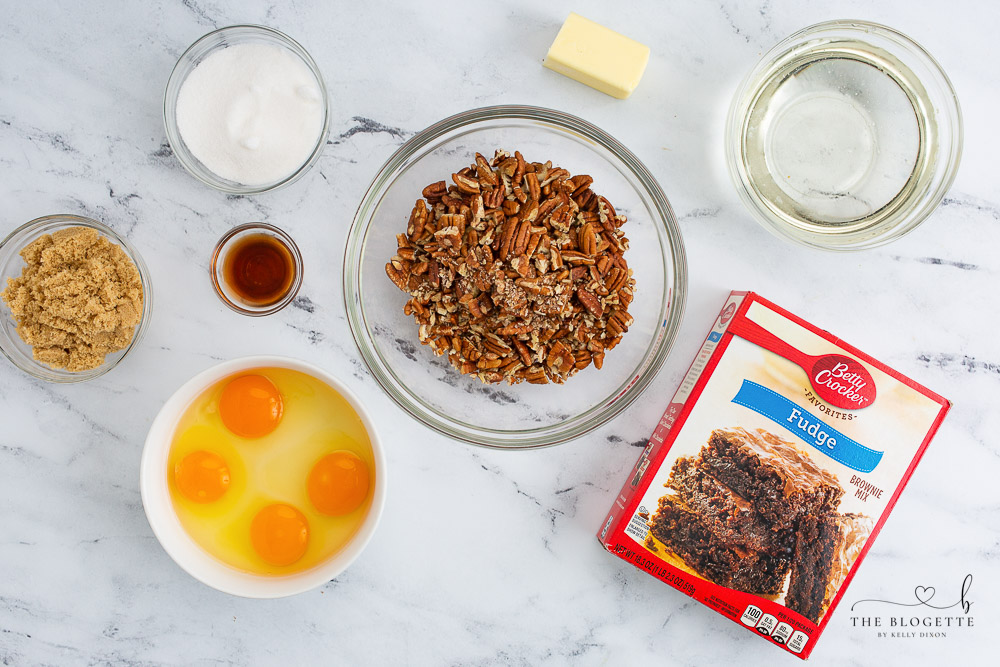 For the Brownies
1 box brownie mix
3 tablespoons water
½ cup vegetable oil
2 eggs
For the Pecan Pie Topping
1 cup granulated sugar
1½ cups light corn syrup
4 eggs
¼ cup unsalted butter
1 teaspoon vanilla extract
3 cups whole pecans
INSTRUCTIONS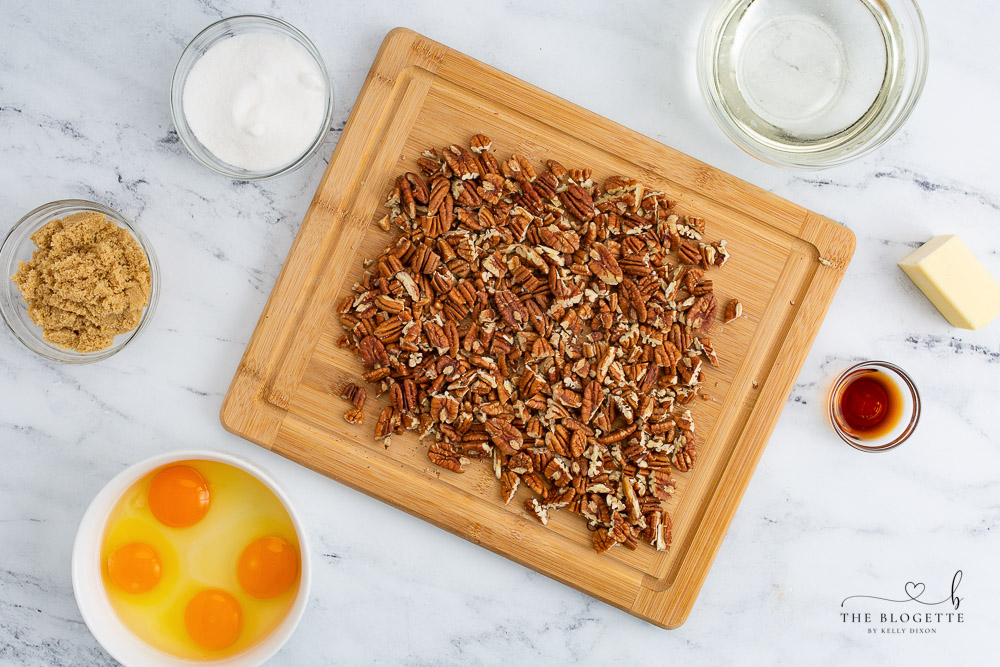 For the Brownies
Preheat the oven to 350°F
In a large bowl, make the brownie mix according to package instructions.
Spray a 9×13 casserole dish with non-stick cooking spray.
Pour the brownie mix into the casserole dish and spread evenly with a rubber spatula.
Bake for about 25 minutes, according to package instructions.
Remove from oven and allow to cool for about 10 minutes.
For the Pecan Pie Topping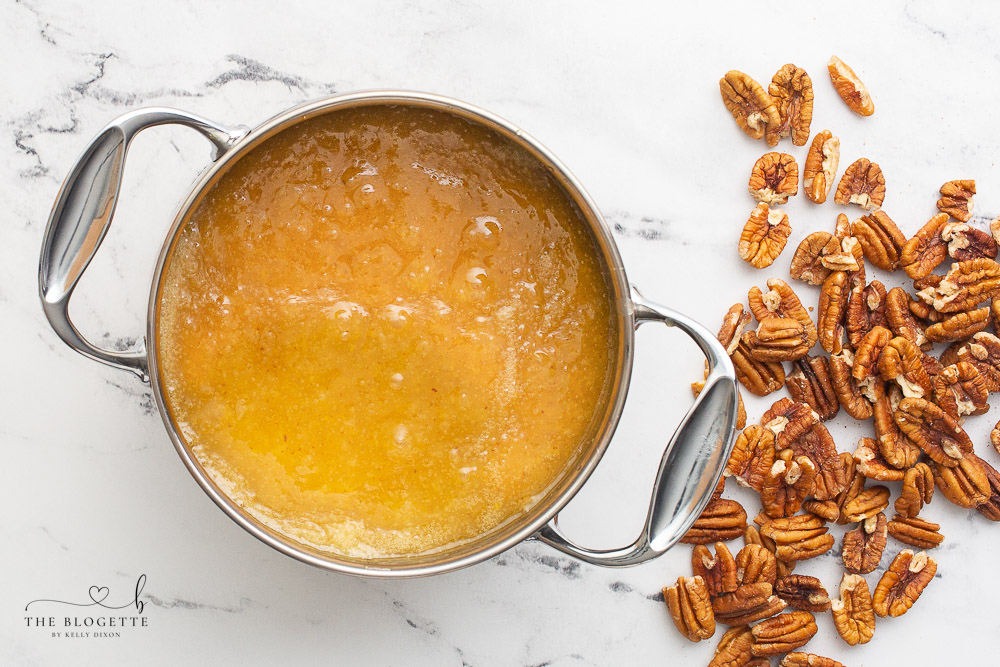 While the brownies are baking, combine all pecan pie filling ingredients except the pecans in a medium sauce pot and whisk.
Set over medium heat and continue to whisk for about 10-15 minutes. The butter will fully melt. The mixture will bubble and rise during whisking and then fall back down as it begins to caramelize.
Once the mixture is thick and jelly like in consistency, and a medium honey in color, remove from heat and add the pecans in.
Use a rubber spatula to fold the pecans in.
Pour the pecan mixture onto the baked brownies and spread evenly.
Bake again at 350°F for another 25 minutes. The pecan pie filling will flatten and have small bubbles when finished baking.
Remove from the oven and let cool completely before cutting to serve.
NOTES
Tips:
*Brownies need to be fully cooled before slicing!
*Use a strong knife or pie server to loosen the edges before cutting and serving.