Chocolate Balloon Bowls with ice cream! Get the kids involved with this treat because they are just as fun to make as they are to eat!
Prep Time 5minutes mins
Cook Time 5minutes mins
Chill Time 30minutes mins
Total Time 40minutes mins
Course: Dessert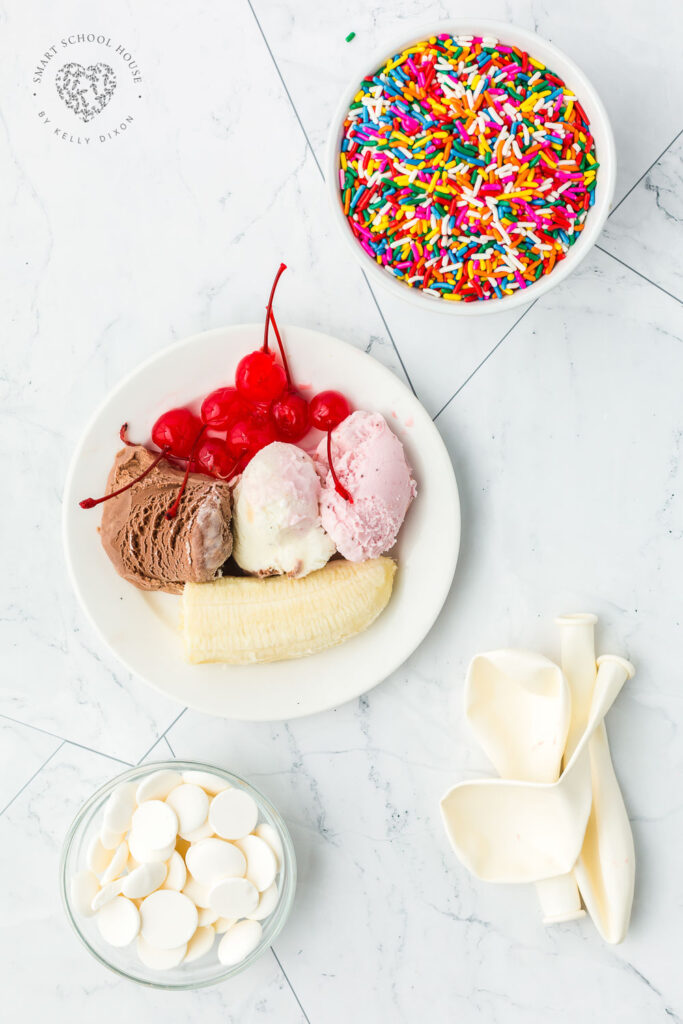 Servings: 3 bowls
Equipment
Mixing Bowls
Whisk
Balloons
Parchment paper or wax paper
Ingredients
2 cups white chocolate melting wafers
1½ cups sprinkles
3 balloons, washed and inflated 4-5 inches in width
Ice cream and dessert fillings of choice!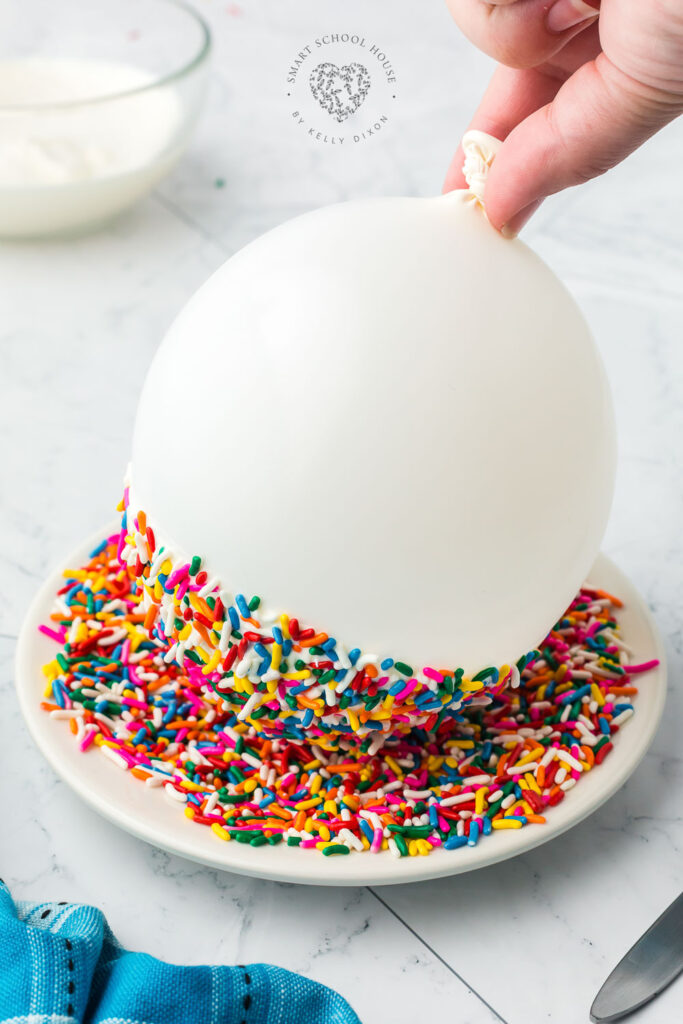 Instructions
Melt the white chocolate. Follow the melting instructions on the package. Most packages will be microwave heat for 30 second intervals stirring between each 30 seconds, but please follow package instructions!
Make the chocolate bowls. Dip the bottoms of the balloons into the melted white chocolate. Coat each thoroughly about 2-3 inches up the balloon bottom. Roll the white chocolate-covered balloon bottoms in the sprinkles making sure to cover the whole surface. Repeat with all balloons.
Chill. Place the coated balloons on parchment paper in the refrigerator for 30 minutes or until the chocolate has hardened.
Pop. Cut the balloons at the knot with a very tiny cut to allow the air to deflate very slowly and remove the deflated balloon from the white chocolate shells.
Fill. Fill the white chocolate balloon bowls with Neapolitan ice cream, banana, and garnish with sprinkles. Or any filling you'd like!
Notes
Storage Instructions:
I recommend enjoying these sprinkles balloon bowls right away. If you don't have enough eager bellies to consume them fresh, however, feel free to save them for later. Wrap each bowl carefully with plastic wrap (just the bowls, not the filling). Store them in the refrigerator for a maximum of 4 days.
When you are ready to indulge, fill the bowls with ice cream or snacks and add the banana and sprinkles.
My Chocolate is thick or chunky!
If your melted chocolate is too thick you can add ½ tablespoon of vegetable oil and stir well, this should thin it out. Melting wafers vary by brand so its hard to tell if one will be thicker than another! If your chocolate is chunky you may have overheated it or could have accidentally gotten water into the bowl. Both of these things will cause melted chocolate to seize up.