Seafood lasagna is bursting with all your favorite seafood flavors baked together in one pan! You will love the crab, scallops, and shrimp nestled in between cheesy lasagna layers and smothered in a delicious white sauce.
PREP TIME1hour hr
COOK TIME40minutes mins
TOTAL TIME1hour hr 40minutes mins
COURSEDinner
CUISINESeafood
SERVINGS12 people
CALORIES475 kcal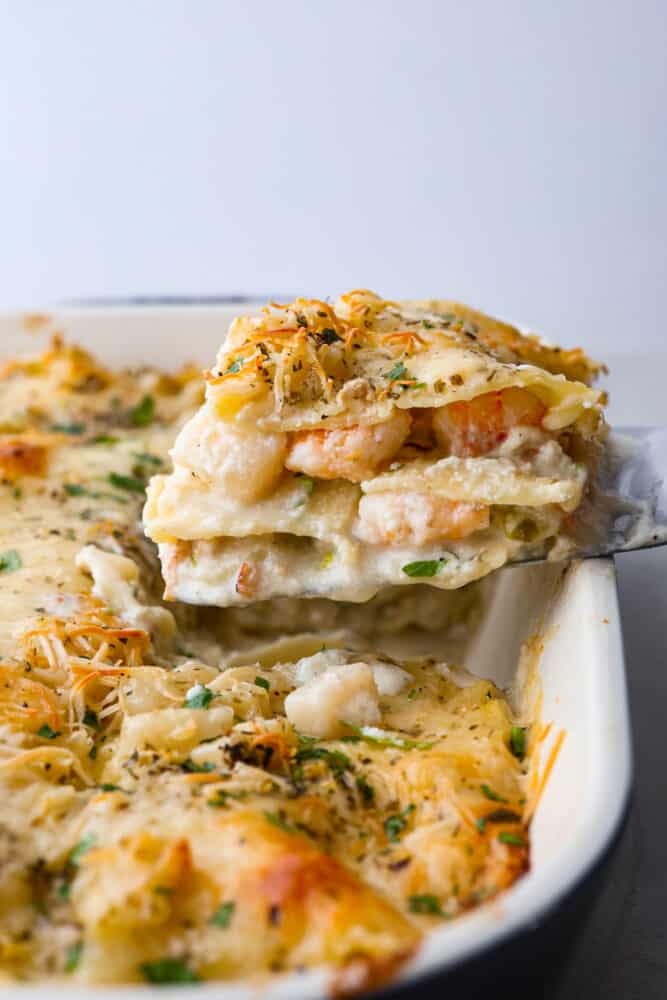 INGREDIENTS
Seafood, Lasagna, and Cheese
12 lasagna noodles, cooked
1 pound crab meat, or imitation crab
12 ounces cooked scallops, quartered
1 pound cooked shrimp
2 cups mozzarella cheese
2 cups parmesan cheese
Sauce
18 ounces canned clam chowder
1 cup heavy whipping cream
3 tablespoons lemon juice
½ cup parmesan cheese
1 teaspoon salt
½ teaspoon pepper
Cheese Mixture
16 ounces ricotta cheese
1 egg
2 teaspoons garlic minced
½ cup fresh chopped parsley
½ teaspoon salt
INSTRUCTIONS
Seafood, Lasagna, and Cheese
Cook the lasagna noodles according to the package instructions.
Preheat the oven to 350 degrees Fahrenheit, and prepare a 9X13-inch baking dish by spraying it with nonstick cooking spray.
In a large bowl, mix your crab meat, prepared scallops, and shrimp. Set aside
In another bowl, mix the shredded mozzarella and parmesan cheese.
Sauce
In a separate bowl, combine the clam chowder, heavy whipping cream, lemon juice, parmesan cheese, salt, and pepper. Whisk together well.
Ricotta Cheese Mixture
In a medium bowl add the ricotta cheese, egg, garlic, parsley, and salt. Whisk to combine.
To Assemble
To assemble, pour a thin layer of sauce into the bottom of the prepared baking dish. Place a layer of cooked lasagna noodles over the sauce. Next, spread ⅓ of the ricotta mixture, ⅓ of the seafood mixture, then 1/2 cup of the shredded cheeses.
Repeat the process another two times finishing the lasagna with the remaining sprinkled cheese on top.
Lastly, top the lasagna with the remaining shredded cheese. Cover and bake, in the preheated oven for 30 minutes. Uncover the lasagna and bake it for an additional 10 minutes.
Remove from oven and allow to cool for about 10 minutes before serving.
NOTES
If you are using frozen scallops, be sure you thaw them out before putting them into the lasagna.
Depending on how big your shrimp are, you may want to cut them in half.
NUTRITION
Serving: 1cupCalories: 475kcalCarbohydrates: 29gProtein: 32gFat: 25gSaturated Fat: 15gPolyunsaturated Fat: 2gMonounsaturated Fat: 7gTrans Fat: 0.01gCholesterol: 146mgSodium: 1490mgPotassium: 321mgFiber: 1gSugar: 2gVitamin A: 1128IUVitamin C: 6mgCalcium: 478mgIron: 2mg