With this recipe for Air Fryer Juicy Steak Bites, you can achieve perfectly cooked steak every time. The combination of salt and soy sauce aids in tenderizing the meat, while the air fryer works its magic to produce a delectably caramelized, protein-rich sirloin cut that will not disappoint.
HOW TO MAKE AIR FRYER STEAK BITES
Combine oil, pepper, salt, and soy sauce in a bowl and whisk well. Cut the steak into bite-size pieces, around 1 ½ inches by 1 inch. Add the steak pieces to the bowl of sauce and toss them until they are fully coated. Preheat your air fryer to 400°F. Place the coated steak bites in the air fryer basket. Cook them for 7-12 minutes until they are nicely caramelized and cooked to your liking.
| Total Time | Prep Time | Cook Time | Servings | Calories |
| --- | --- | --- | --- | --- |
| 19 minutes | 7 minutes | 12 minutes | 3 servings | 495kcal |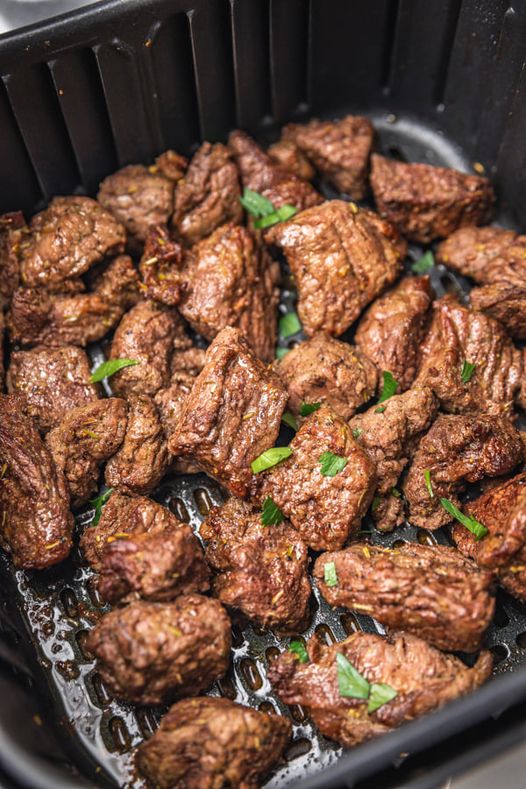 Ingredients
2 lb sirloin steak (cut into 1½-inch by 1-inch)
2 tbsp oil
1½ tsp ground black pepper
1½ tsp salt
1½ tsp soy sauce
US Customary – Metric
Instructions
Cut steak into 1½-inch by 1-inch pieces.
Whisk together oil, pepper, salt, and soy sauce.
Add steak to bowl and toss together with sauce until coated.
Preheat air fryer.
Cook in air fryer at 400°F for 7-12 minutes.7 minutes = more rare / 12 minutes = medium-well
Serve as main dish along with steamed rice, vegetables, or noodles.
Nutrition
| Nutrient | Amount |
| --- | --- |
| Calories | 495kcal |
| Carbohydrates | 1g |
| Protein | 66g |
| Fat | 23g |
| Saturated Fat | 6g |
| Polyunsaturated Fat | 3g |
| Monounsaturated Fat | 12g |
| Trans Fat | 1g |
| Cholesterol | 184mg |
| Sodium | 1419mg |
| Potassium | 1052mg |
| Fiber | 1g |
| Sugar | 1g |
| Vitamin A | 5IU |
| Calcium | 90mg |
| Iron | 5mg |